Small and medium-sized organizations (SMEs) are the backbone of the economy, representing 99% of all businesses and creating two-thirds of all new jobs in the US within recent decades. These business owners are required to not only be good at what they do, but also skilled in all business management-related issues, including finance, marketing, HR and IT. Most, however, do not have dedicated cybersecurity professionals on their teams, either due to budgetary constraints, lack of manpower, or because they are lagging behind in their digital transformation journeys and think that because their attack surfaces are relatively small that they will not become the targets of serious cyber attacks.
While this gap manifests itself in a variety of ways, it also makes it increasingly difficult for SMEs to protect themselves against cyber threats. In fact, according to Verizon's 2020 Data Breach Investigations Report, 43% of cyberattacks are targeted at small businesses, while only 14% have put in place the necessary security measures to protect themselves. In addition, according to a 2020 study by Fundera, cybercrime costs SMEs more than $2.2 million a year, while 60% of those that are victims of a cyber attack go out of business within six months.
Introducing Hyverlight: A unique offering for SMEs
In order to help SMEs around the world become increasingly cyber resilient, CYE is partnering with ALSO Holding AG, a leading technology provider and reseller for the ICT industry that is active in 24 countries in Europe and in a total of 90 countries worldwide, who will be reselling CYE's unique offering, tailored specifically to SMEs. This partnership will enable SMEs to effectively assess their digital risk exposure and implement the appropriate prevention and remediation solutions, without the need for complex IT skills. We're calling our new offering, which provides SMEs with a single solution to address their cybersecurity threats, "Hyverlight."
With Hyverlight, SMEs can begin reclaiming control over their cybersecurity. This unique solution offers:
Continuous, automated assessments of the main threat environments for SMEs
A single, enterprise-level solution
Clear visibility of all security threats
Actionable tasks
A cost-effective way for SMEs to optimize their cybersecurity investments
In addition, Hyverlight is simple and easy to use and does not require agents, installations or tech knowledge.
The offering includes:
Attack surface tracker – Provides a pulse into all external-facing assets, both known and unknown.
Azure security tracker – Tracks the accuracy of Azure security in the cloud, which is essential to businesses, as more companies are moving to the cloud.
Internet perimeter tracker – Provides a view into the potential entry points that an attacker might take to gain access into an organization.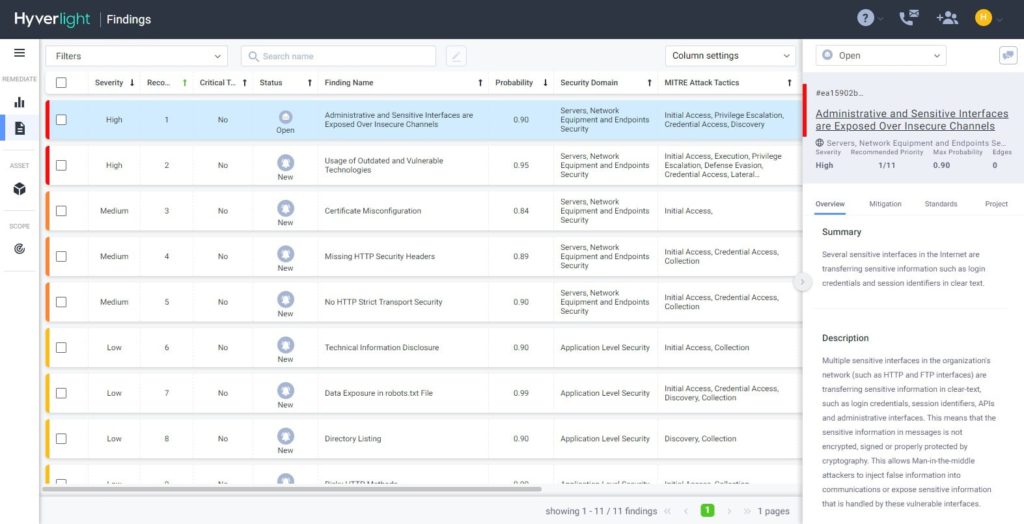 "As SMEs continue to become increasingly interconnected, they need to ensure that they have the necessary resources and expertise to effectively assess their digital risk exposure and implement appropriate prevention and remediation solutions," said Founder and CEO of CYE Reuven Aronashvili. "We look forward to a long-time partnership with ALSO, who will help us take Hyverlight to the next level. This partnership will enable SMEs to make informed decisions about their security landscape and regain control of their cybersecurity in order to prevent attacks before they occur, while preventing damage to their reputations, consumers' trust and revenues."
"Hyverlight is a great opportunity for our partners," said Gustavo Möller-Hergt, CEO of ALSO Holdings. "With this tool, they can offer their customers a specific assessment of their cybersecurity risks, as well as an optimization and mitigation plan based on the knowledge and experience of the industry leaders in this area. The service is a key element in implementing cybersecurity particularly in SMEs, as it is affordable and tailored to their needs. It enables resellers to expand their as-a-service portfolio and further monetize the digital workplaces."
SMEs, don't let yourselves become sitting ducks for the next cyber attack
As cyber attacks increase in both frequency and sophistication, SMEs can no longer afford to look the other way when it comes to cybersecurity. They need to take a proactive approach to their security in order to ensure that they understand their security risks, how those security risks translate into business risks, and how to best prevent and mitigate possible attacks. SMEs cannot afford to become the victims of the next cyber attack, as they truly are the backbone of the global economy.
Interesting in learning more about Hyverlight? Speak to one of our experts